Campaigns
In 2019, Premier Doug Ford passed Bill 124 that limited public sector compensation increases to 1% per year. Since the release of Bill 124, SEIU Healthcare has called on the government to repeal a bill that is extremely hurtful to our healthcare workers, especially while they are on the frontlines fighting COVID-19.
Many of our campaigns in 2021 focused on demolishing Bill 124 as many of our members were gearing up to renew their collective agreements at the bargaining table. You should not be forced to bargain below-inflation wage increases. With inflation over 4%, a 1% increase means you are taking a pay cut and limits our ability to negotiate much-needed benefit increases. Our Respect Us, Protect Us, Pay Us campaign was a driving force in all sectors through the entire year and the campaign's momentum will carry into 2022.
Respect Us, Protect Us, Pay Us
On International Women's Day, SEIU Healthcare launched our Respect Us, Protect Us, Pay Us campaign. The campaign aimed to highlight the crushing burdens of the pandemic that healthcare workers – a majority female workforce – have endured for years. The campaign is just one step forward to achieving equality and inclusiveness. To amplify our voices, CUPE and Unifor participated in our event and took part in province-wide actions throughout the year.

It didn't take long for you to stop calling us "heroes" or "essential". As the pandemic rages on, and once it is over, we deserve respect for the critical work we do.

Keep us safe by providing us access to personal protective equipment (PPE), removing all barriers to receiving the COVID-19 vaccine, like the current lack of paid sick days we need.

All healthcare workers deserve a wage increase. Also, Bill 124, which limits many healthcare workers to a 1% wage increase per year, must be repealed immediately.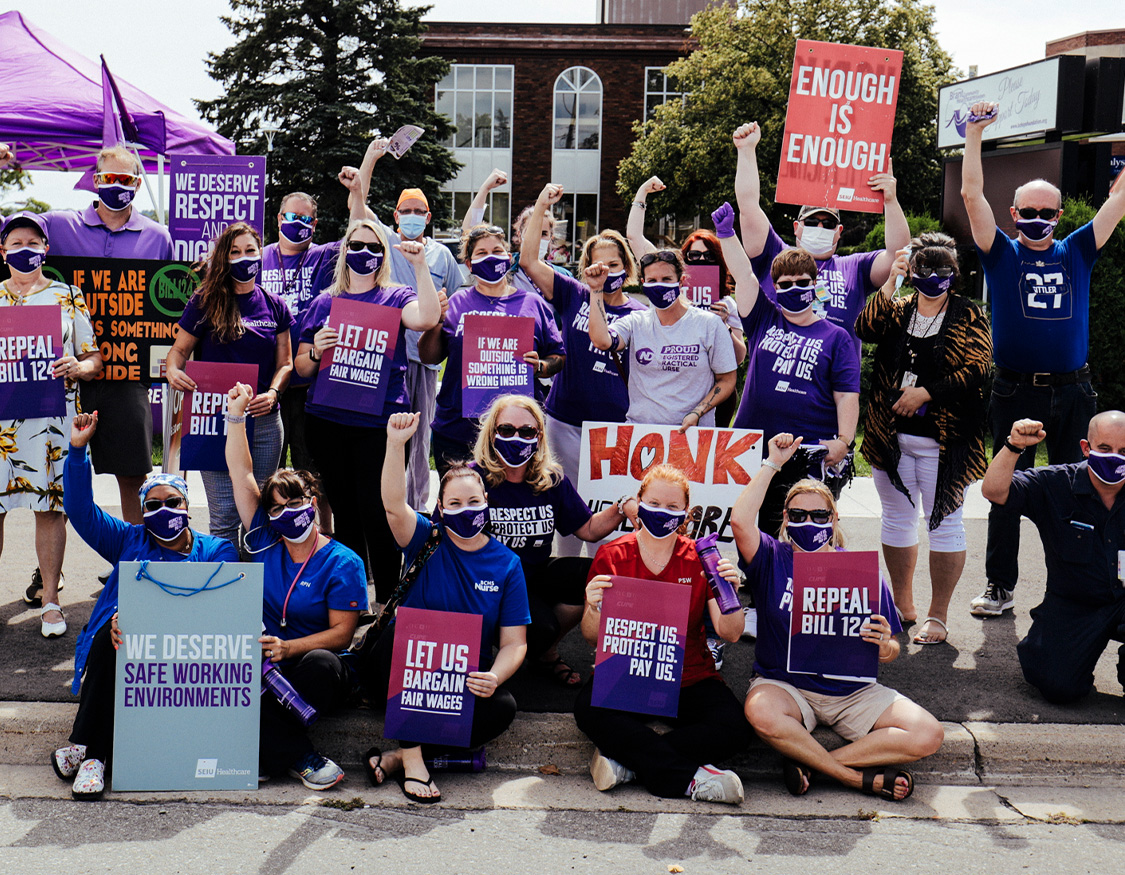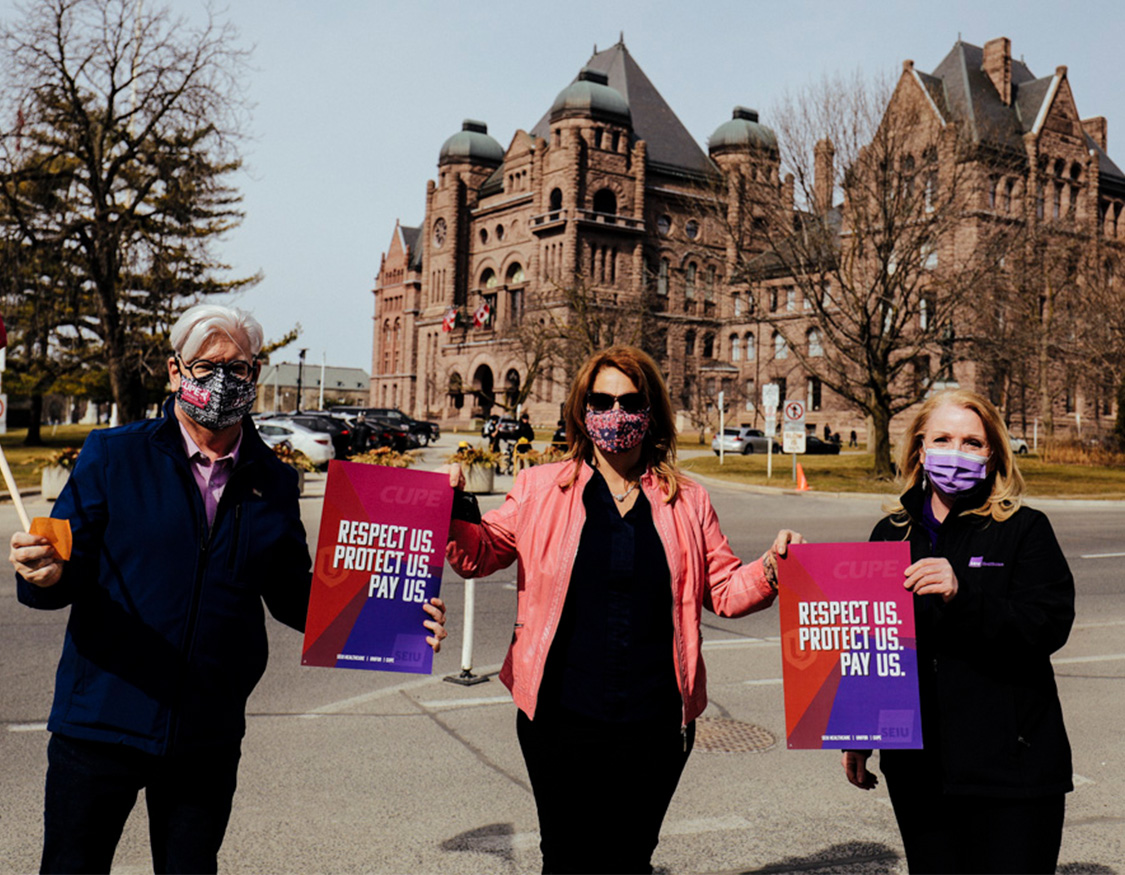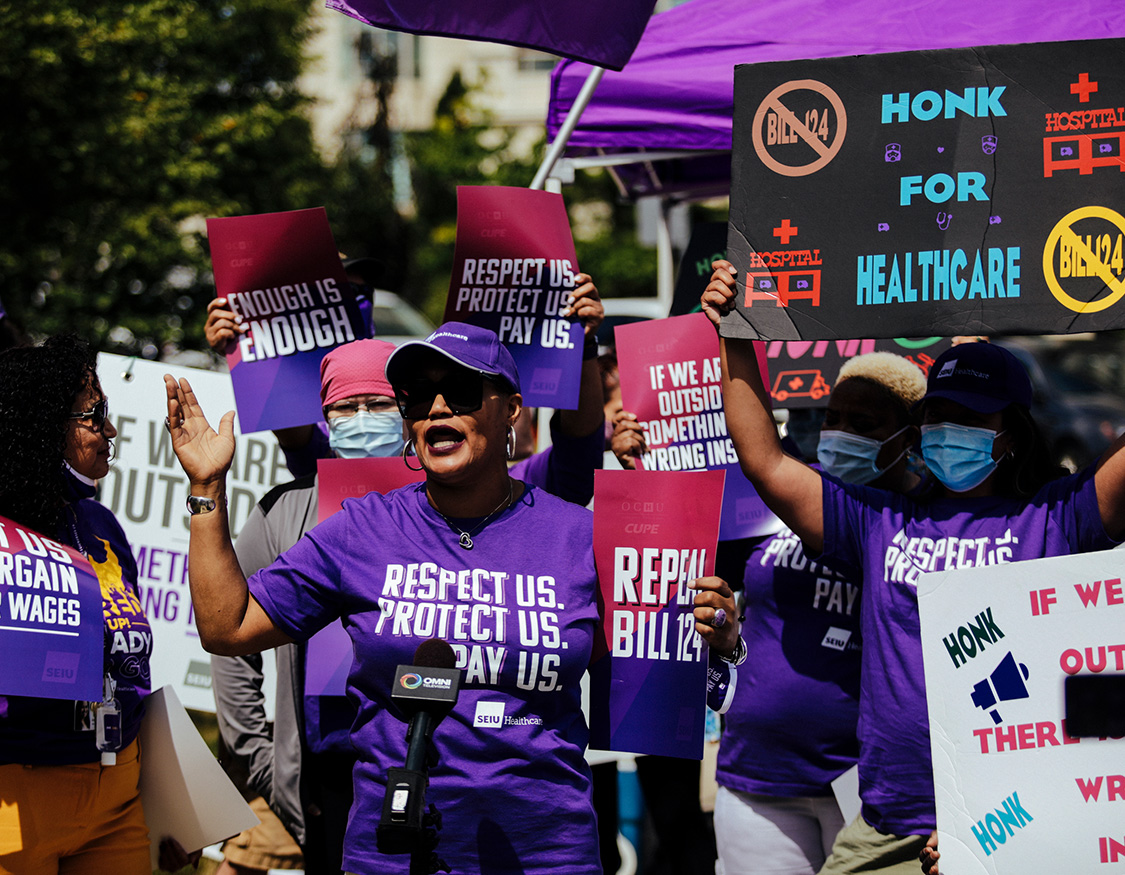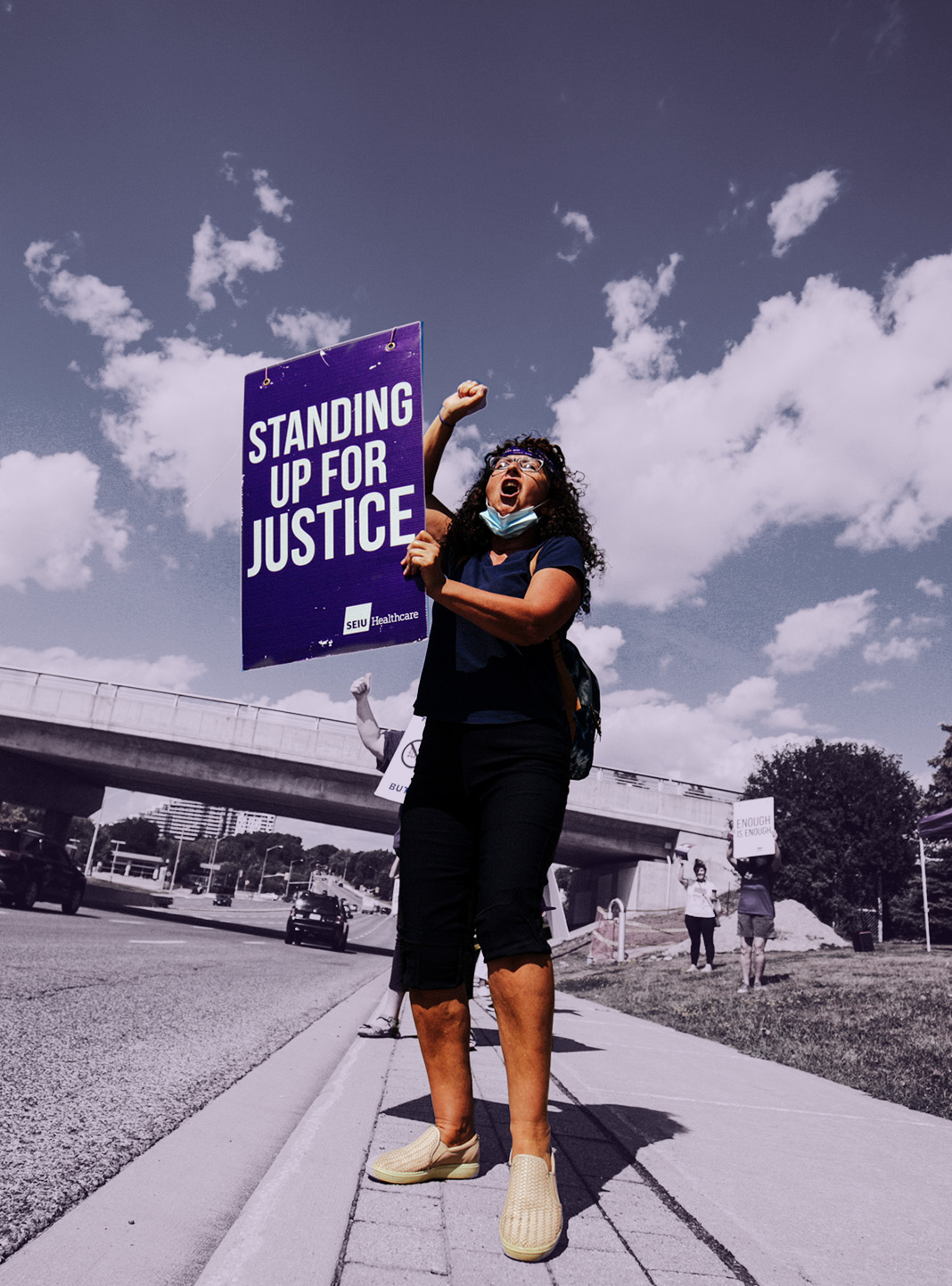 Strength In Numbers
Thousands of SEIU Healthcare members made their voices heard by signing petitions to improve their working conditions, health and safety, and wages. There is strength in numbers, and the more healthcare workers who make noise, the more impact we can make together.
Ontario Hospital Action – Send a Letter to Your CEO!
During Central Hospital Bargaining, hundreds of hospital members took action and sent letters to the 17 participating Ontario Hospital CEOs. We asked the CEOs to advocate for the repeal of Bill 124, allowing members to exercise their right to negotiate a fair collective agreement without any concessions.
Healthcare workers deserve higher wages. ALL OF THEM! No matter the team, if you take away one member, the team will fail. That's because everyone is essential. This was one of our primary messages to Premier Doug Ford throughout the year, as we fought the government to demolish Bill 124. Tens of thousands of members shared our message with Ford and his Conservative MPPs and signed our urgent petition.
During the Nursing Summit, we launched our Take Action for RPNs campaign. Hundreds of nurses called or sent an email to Ford demanding that he repeal the bills he has created, which hurt healthcare workers, including RPNs. They told Ford and their local MPPs that they only have less than a year left in office, and it was time to start passing bills that help.
Hundreds of people took action and sent a pre-written letter to Premier Doug Ford, Minister of Long-Term Care Rod Phillips, Minister of Health Christine Elliott, and your MPP to urge them to renounce Miranda Ferrier and the Ontario Personal Support Workers Association (OPSWA) from having any official policy role in the healthcare sector, including removing her from the Long-Term Care Staffing Supply Accelerator Group. They call themselves the voice of PSWs, but they have been caught in bed with the government. OPSWA promotes pro-employer policies that create barriers for PSWs we are fighting hard to eliminate.
We Will Not Be Silenced Petition
Frontline healthcare workers have been through too much during the COVID-19 pandemic. Instead of supporting you heroes, the Ford Government is doing everything in their power to take your voice away! Hundreds of supporters signed the petition and told Doug Ford that we will not be silenced, not now and not at the ballot box in 2022.
SEIU Healthcare Launches TV Ad to Raise Alarms About Doug Ford's
Abuse of Power
We launched an urgent television ad before Doug Ford overturned our Charter of Rights and Freedoms to muzzle the voices of frontline workers. We have seen time and time again that Doug Ford will abuse his power and attempt to silence the stories of those hurt most by his government, in particular, working women in the care economy and their families. The ad ran during popular tv shows and sports programming in June.