PRESIDENT, SEIU HEALTHCARE
Respect Us. Protect Us. Pay Us.
Over the past 12 months, these are the words we've repeated to the Ford government, your employers, and to the public through the media.
Our demands were heard by many and because of our collective work together, thousands of healthcare workers were provided increased supports, including access to pay equity, new benefit plans, and increased retirement security options.
But sadly, there are still far too many refusing to give you the basic necessities you need.
The Ford government continues to offer temporary solutions to permanent problems, such as low wages, short staffing, and health and safety issues. On top of that, they continue to stand behind Bill 124, which limits public sector healthcare workers to below-inflation wage increases of just 1% per year, restricting your bargaining power and mocking your worth.
Employers and their bargaining agents, such as the Ontario Hospital Association, continue to undervalue the work you do and refuse to address the unacceptable issues you face daily, including understaffing, exposure to COVID-19, and workplace violence.
We know you are overworked, understaffed, paid less than you deserve, and burnt out. Your government and employers need to work with us to fix this broken system before it is too late. That day is coming sooner than later.
As we enter 2022 with increased COVID-19 cases, new variants, and ongoing uncertainty, our demands for respect, protection, and pay are more important than ever. The next 12 months are truly critical to the future of healthcare.
In addition to crucial bargaining for tens of thousands of our members in the hospital, long-term care, and home and community care sectors, 2022 will also include our next provincial election, where obtaining the protection and pay you deserve will rely heavily on this province electing a government that respects you.
To get the results we need, both at the bargaining table and Queen's Park, we need you to be involved and stand side-by-side with us in our battles. When we call on you – whether it is to sign a petition, wear a sticker, mail a postcard, or join us at a rally – we need you to not only step up, but get your colleagues involved as well. There is strength in numbers, and our strength will never be needed more than in 2022.
In my almost 20 years as SEIU Healthcare president, I have never been prouder to be the leader of this union. The strength, determination, dedication, and passion you have shown during this pandemic are what have kept this province going during the darkest of times.
From the bottom of my heart, thank you for everything you continue to do. In 2022 and beyond, I look forward to working with you to create a healthier healthcare system for all of us.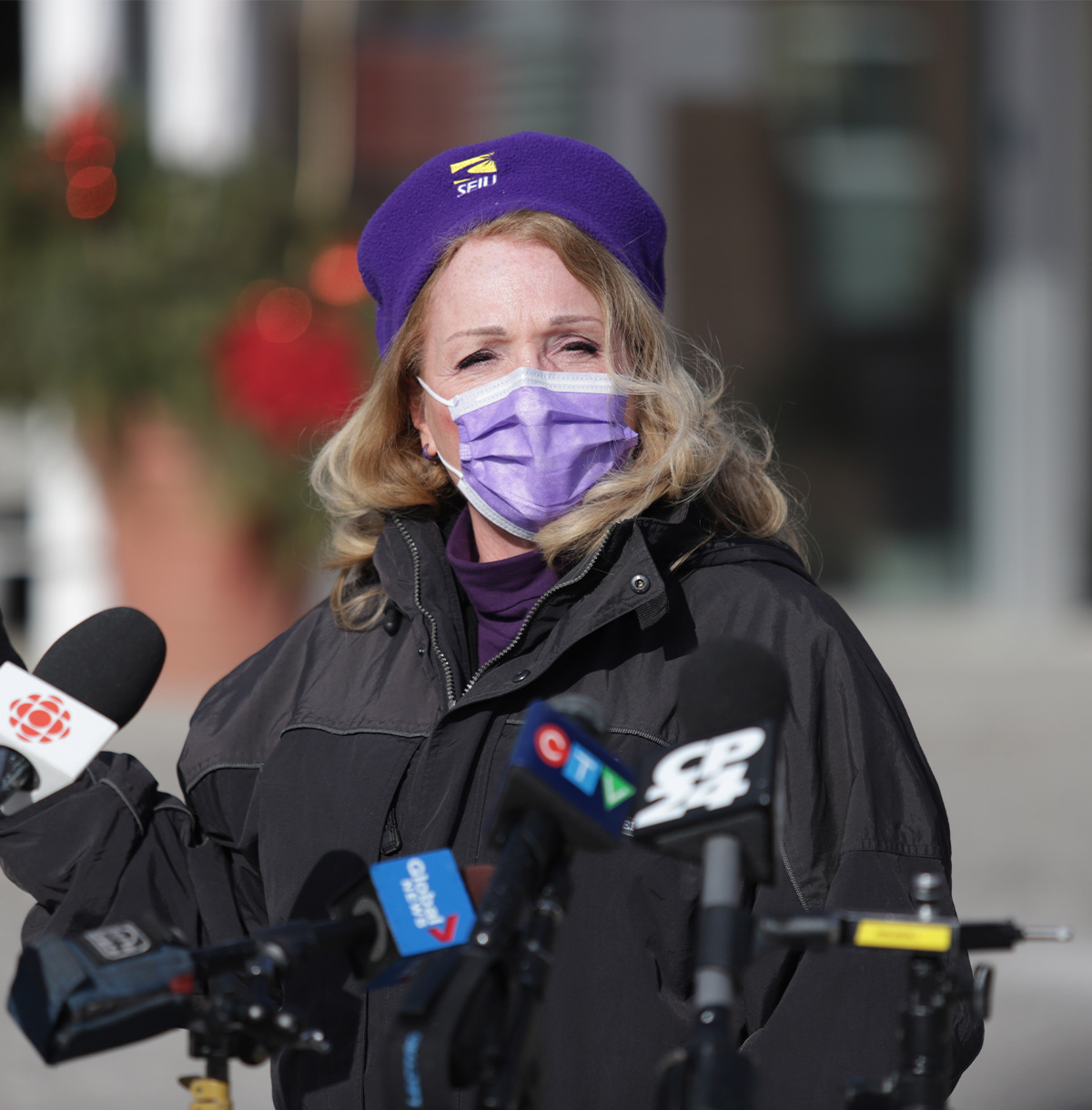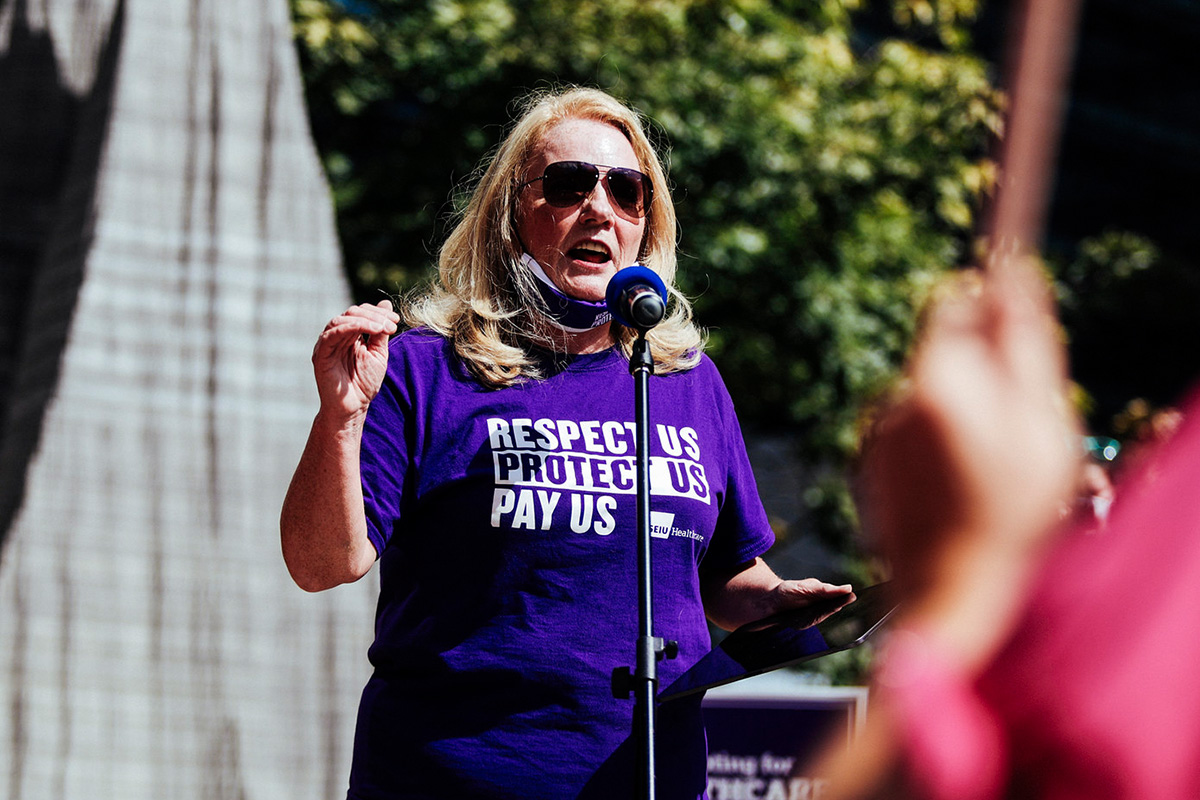 SECRETARY-TREASURER, SEIU HEALTHCARE
No one could have anticipated how long the COVID-19 pandemic would last. With new variants continuing to put pressure on our healthcare system, we still don't know what lies ahead or what new normal we will have to adapt to. One thing we know for sure is that no matter what's thrown your way, your union is ready to find new ways to support and advocate for you.
We made a promise last year to improve our existing resources and create new platforms that allowed us to serve you better. As part of achieving these goals, we created a brand-new mobile app.
When we were planning this new platform, we were intentional on its purpose: to create better communication with all our members and to provide you with more resources to make your union participation easier.
As a result, SEIU Healthcare members now have supports like your collective agreement and Member Service Centre at your fingertips and can be notified instantly about the latest healthcare news and union events. We are humbled that over 15,000 of you have already downloaded our mobile app, and we know that number will continue to grow as we expand the app to include more resources in 2022.
Another major project we took on this year was revamping your Member Resource Centre (MRC). We have listened to your feedback about what you need from us, and the result of that is your new and improved Member Service Centre (MSC). This new platform offers a live chat both on our website and SEIU Mobile App, and the service will continue to expand in the new year. We know you need more ways to be in touch with your union, and this is just a first step to achieving that.
These past two years have been unprecedented, and I can't say thank you enough for the work you continue to do. In 2022, we are doubling down our efforts to ensure we are more connected to you and provide the support and resources you need. This will be essential as we approach June's provincial election, where we must work together to elect a government that not only says the right things but does them as well.
The Ford government was quick to call you a hero, but whoever is elected in June must also treat you like one. More respect. Safer workplaces. No wage restraints. Paid sick days. The list goes on…
We've got less than six months until the election and we need to make everyday count. You union has your back as we fight for a stronger and safer healthcare system in 2022 and beyond.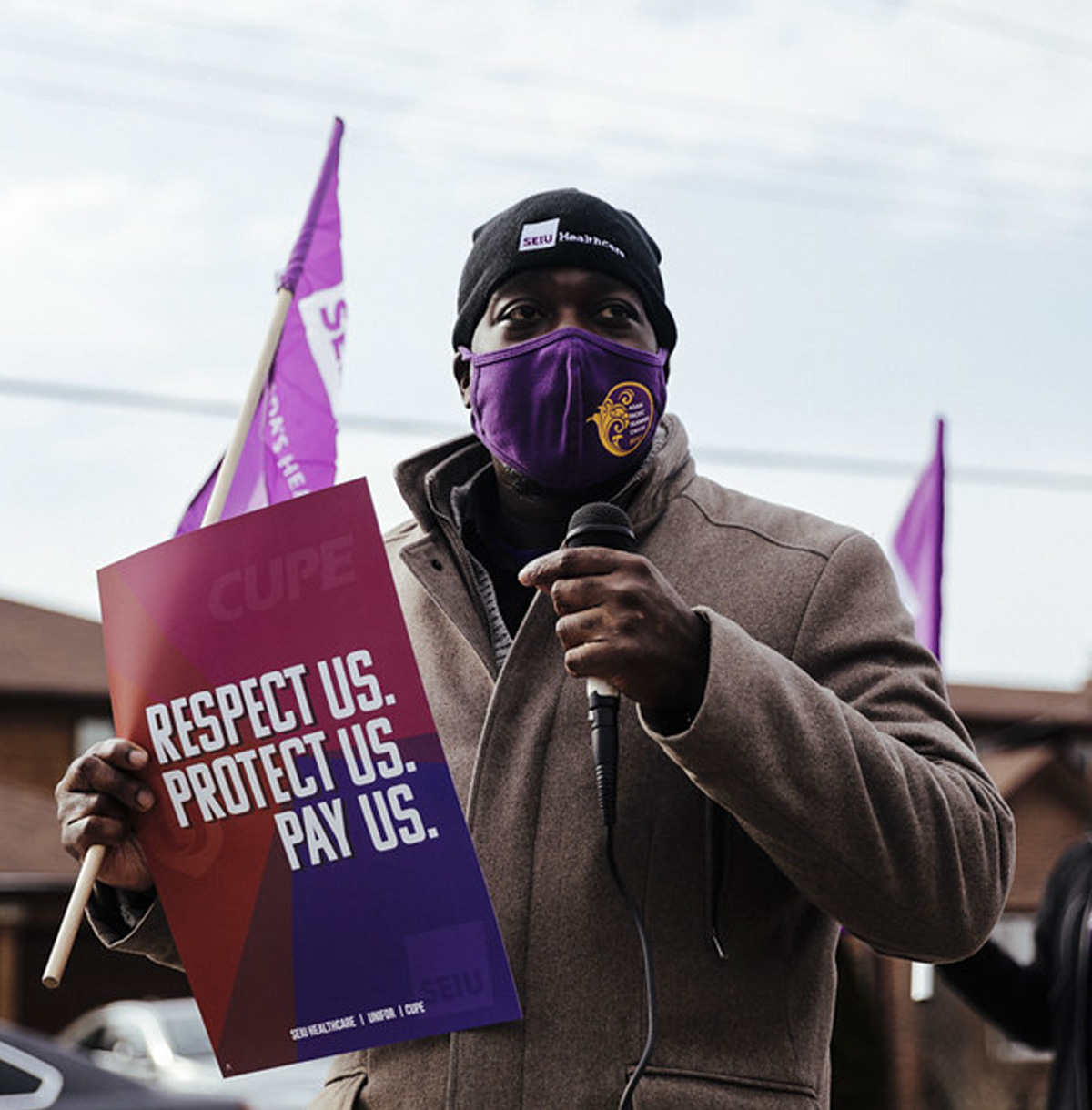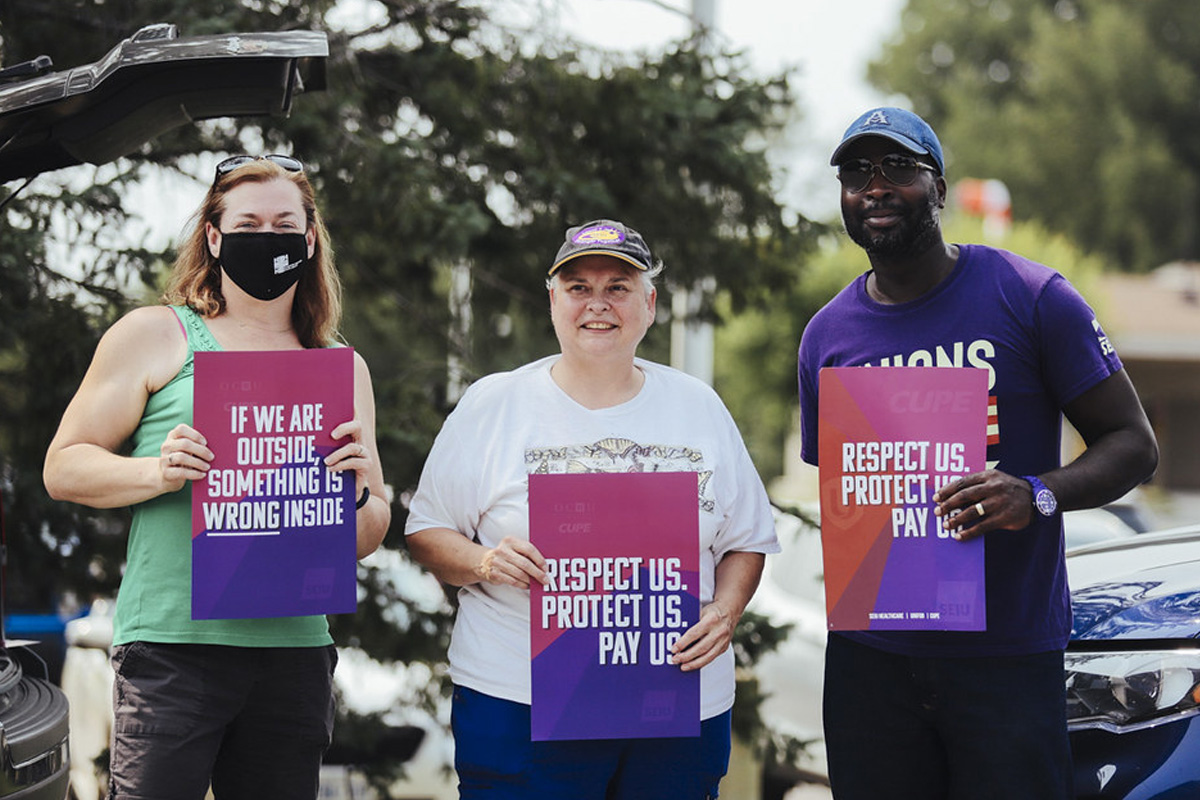 EXECUTIVE VICE-PRESIDENT, SEIU HEALTHCARE
2021 has presented incredible challenges, especially for frontline healthcare workers. I want to thank you for everything you have given over the past year. More COVID-19 variants have emerged, creating new battles in our workplaces. Through it all, you've made countless sacrifices and put the health of our communities above your own. I have never been prouder to be a part of SEIU Healthcare.
Despite all of this year's challenges, it's important to remember our victories as well. After a 15-year battle, we finally defeated the Ontario government and for-profit nursing homes in their attempt to deny thousands of our members access to pay equity. This is a huge win for all women and shows the value of determination and perseverance.
We also created new ways to come together to celebrate when in-person activities were not possible. We celebrated Chinese New Year online for the first time, signalling the beginning of spring and brighter times ahead. We also hosted a virtual Black History Month event where we recognized the contributions of our Black members and had important conversations about racism and discrimination in the workplace. The diversity of SEIU Healthcare is our strength, and our work to improve equity and inclusion remains more important than ever.
It has been my privilege this year to work with our community seat representatives on our executive board, ensuring that every member has a voice in our union. I am very excited to share some of the work they've been doing in 2022 and get even more of our members involved in their initiatives.
As we move into 2022, I look forward to hopefully being able to connect more in person. Our solidarity as a union has gotten us through the past two years, and it will carry us through in our work moving forward. With a provincial election on the horizon, we have a lot of work to do to ensure the government we elect is one that respects, protects, and pays us. I hope you will join me in this fight!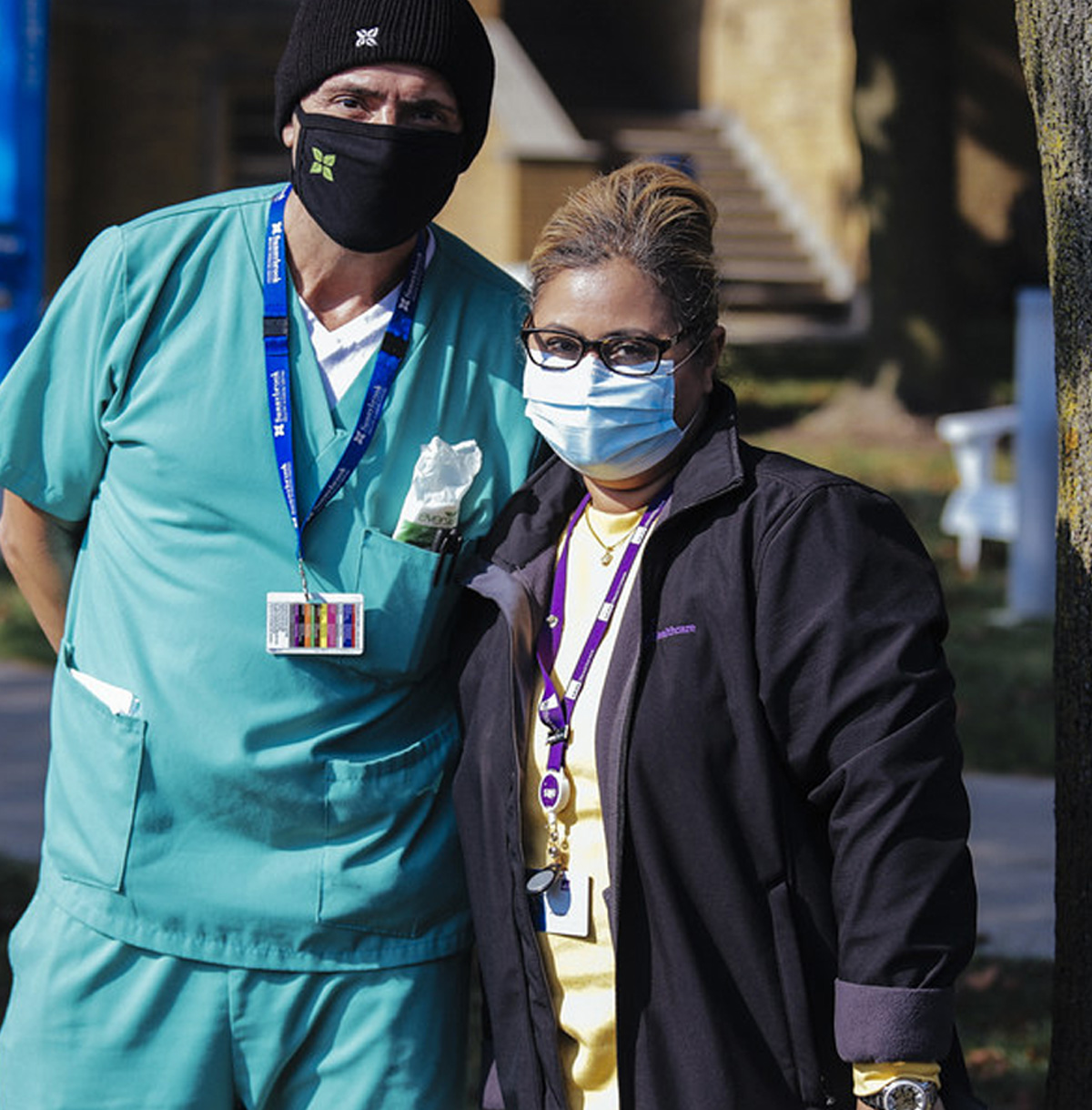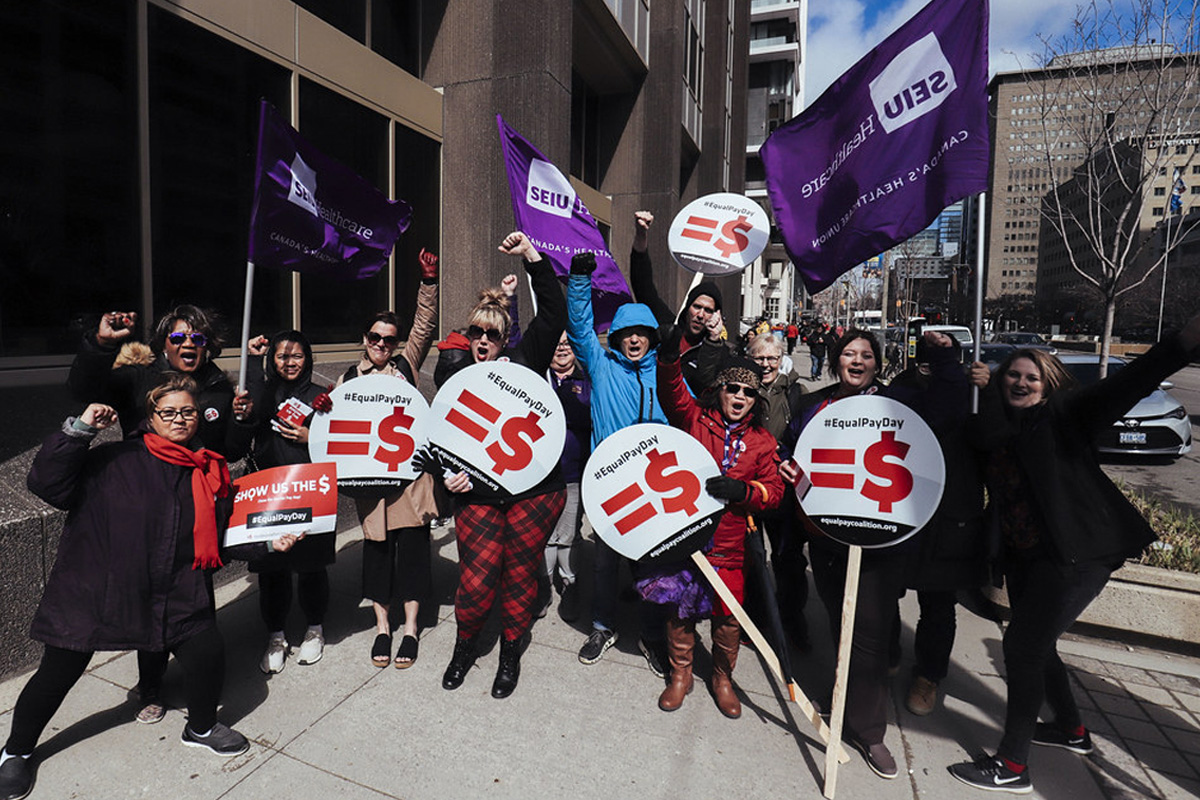 NURSING DIVISION PRESIDENT, SEIU HEALTHCARE
As a fellow nurse and your Nursing Division President, I have never been prouder to represent over 8,500 SEIU nurses. You continue to fight through the worst healthcare crisis of our lifetime and yet your dedication is unwavering and your wheels never stop spinning. When you are called upon, despite how exhausted and overworked you are, you always come running.
Not only are you on the frontlines fighting COVID-19, but you are also stepping up and pushing back to repeal the Ford government's unconstitutional Bill 124. All over the province, I have witnessed many SEIU nurses taking action, drawing attention to the fact that Bill 124 is not only offensive and hurtful, but an attack on all public sector workers. Thank you for being brave and finding the energy to stand up and fight. In times like this, every voice matters.
2022 is about holding the Ford government and your healthcare employers accountable. It's about increasing our collective pressure to abolish Bill 124 and other policies that negatively impact frontline workers. In 2022, we need to work together and elect a government that respects, protects, and pays nurses based on their value and contribution to healthcare and our communities.
We know how much this pandemic has affected your well-being and are dedicated to advocating for more mental health resources and supports for all healthcare workers. As we face new challenges every day, please remember to take for you to reflect, heal, and rejuvenate. We have a lot of work ahead of us and a healthcare system to rebuild. I look forward to achieving great things together.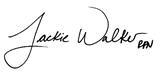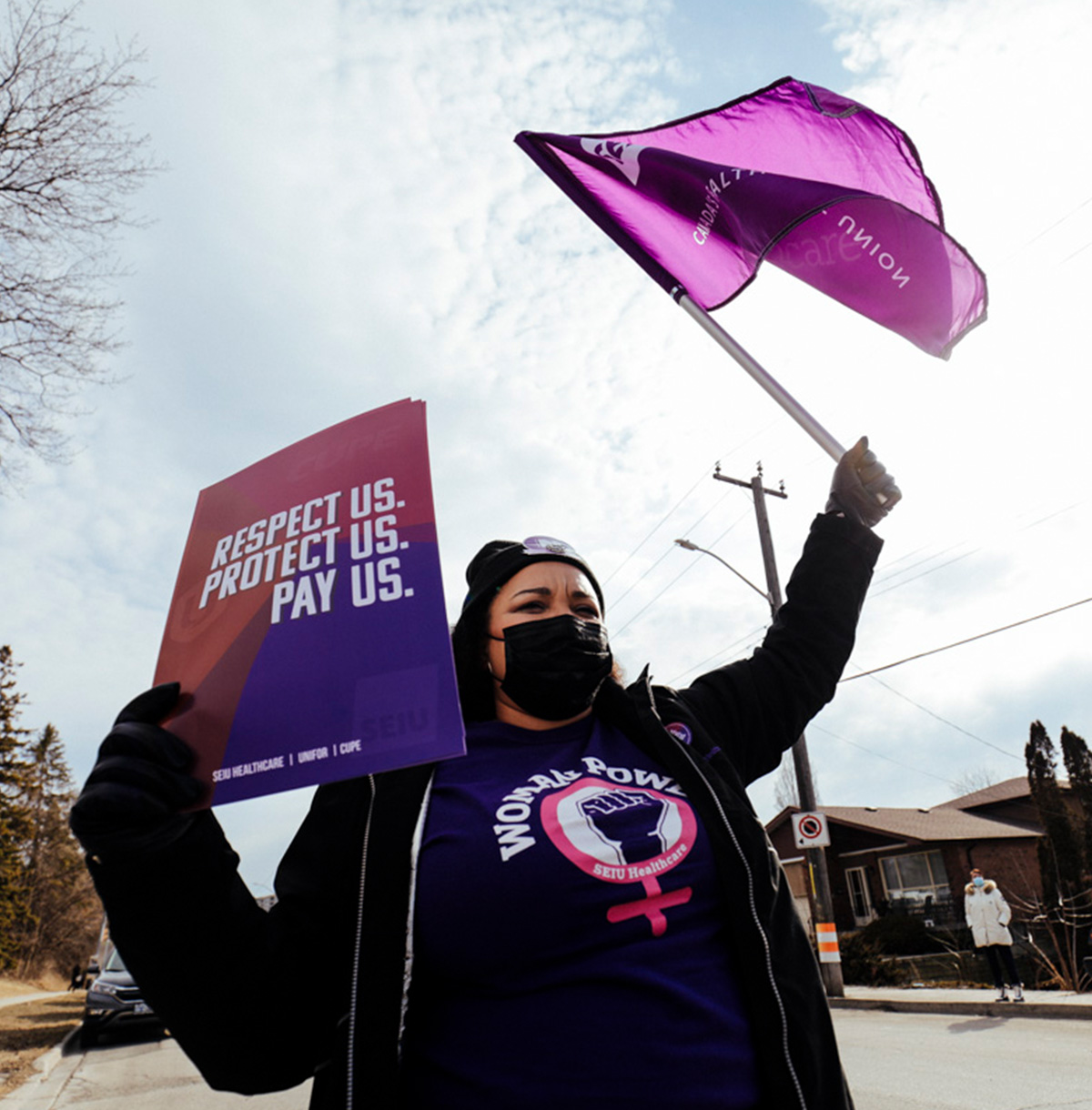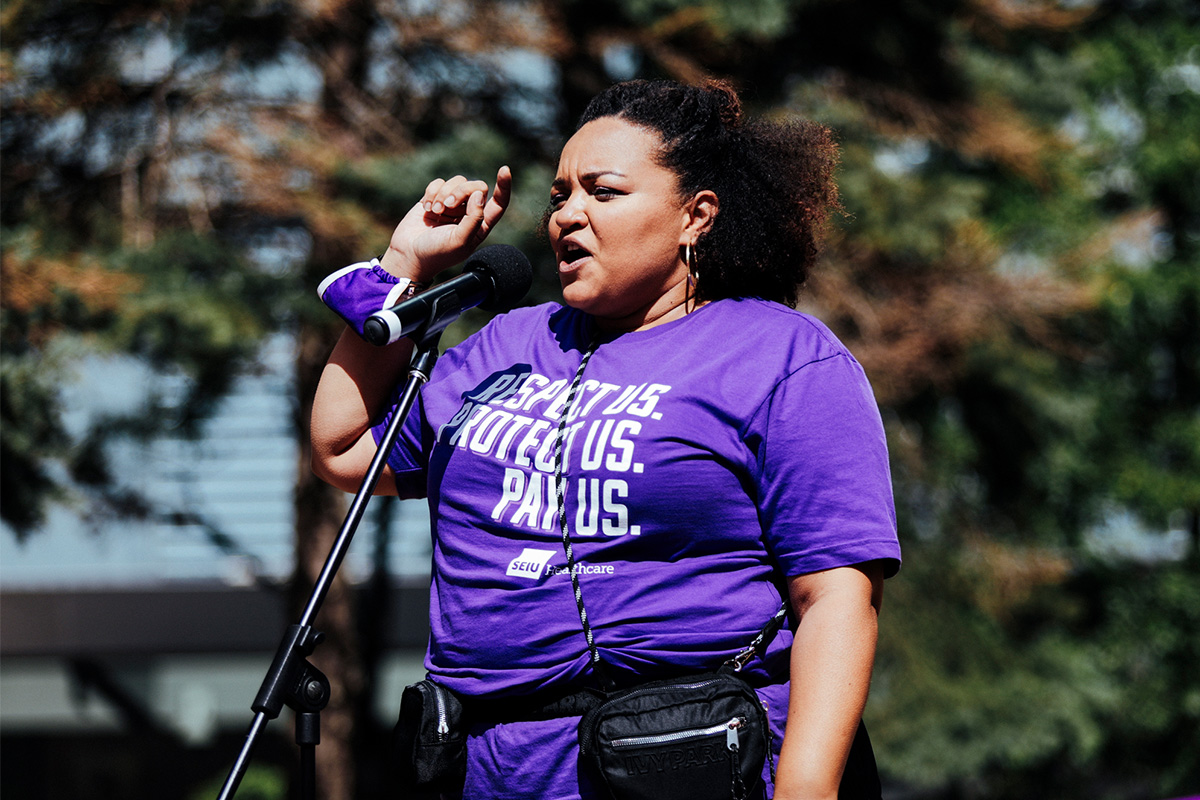 Three Officers
President
Secretary-Treasurer
Executive Vice-President
Nursing Division President
Three Officers
President
Secretary-Treasurer
Executive Vice-President
Nursing Division President
Three Sector seats with one member from:
Home Care and Community Care
Hospitals
Long-Term Care
Three sector seats with one member from:
Home Care and Community Care
Hospitals
Long-Term Care
Seven Community Representation seats with one member from:
Aboriginal and Indigenous Peoples
LGBTQ2+
Persons with Disability
Retirees
Women
Workers of Colour
Young Workers
Seven Community Representation seats with one member from:
Aboriginal and Indigenous Peoples
LGBTQ2+
Persons with Disability
Retirees
Women
Workers of Colour
Young Workers
Eight regions with one member from:
Region 1 – Thunder Bay
Region 2 – Northumberland
Region 3 – Georgian Bay
Region 4 – Greater Toronto Area
Region 5 – Hamilton/Halton
Region 6 – Norfolk/Niagara
Region 7 – London and Southwestern Ontario
Region 8 – Algonquin